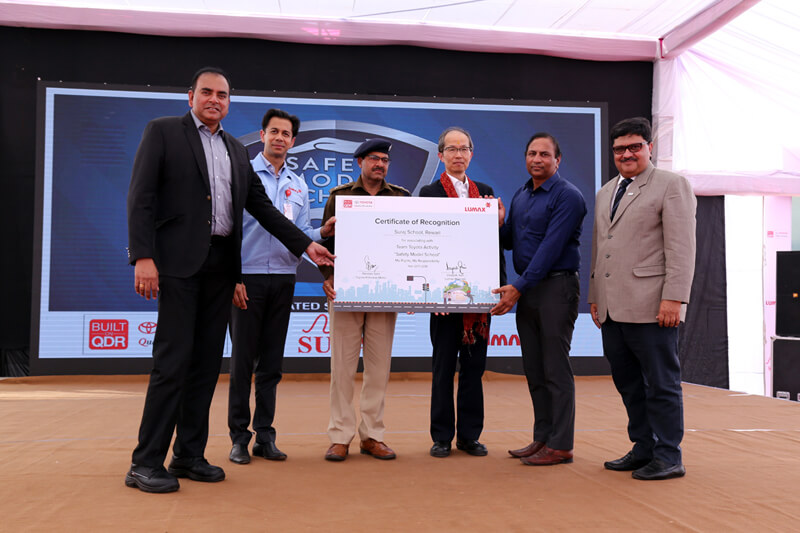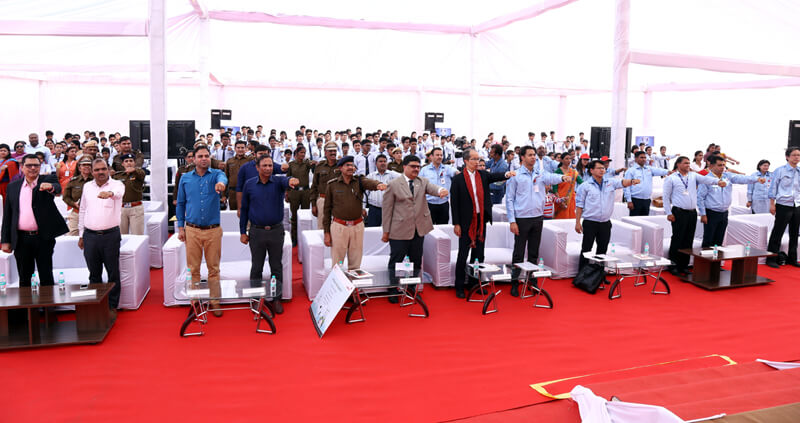 ---
Rewari, March 8th, 2018: Toyota as safety leader been promoting various road safety initiatives with multi stakeholders. We not only believe in manufacturing safe cars, but safety of the people on road is our priority. We are striving to promote & integrate safety culture amongst Customers, Employees, Dealers, Suppliers and Community to ensure safety culture awareness throughout the social value chain, thereby delivering the best practices of safety.
Toyota follows an integrated safety approach towards addressing the grave issues of road safety in our country, aiming to build a safer community by adopting 3 dimensional concept – Manufacturing Safe Cars, Developing Safe Drivers & Building Safer Environment.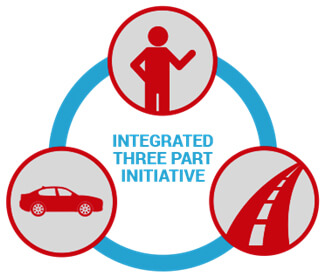 As a part of our CSR initiative, TKM has been striving to bring about right road sense knowledge &behavioramongst school children under its flagship program - Toyota Safety Education Programme [TSEP]. Started in 2007, reached to over 7,00,000 school children. Also this year, marks the 10th anniversary of TSEP implementation.
Further to reiterate company's vision of "Safest Car with Safest Driver", 'Toyota Driving School', one of its kind in the country was launched in2015 with an objective totrain the student to be a responsible and safe driver. With the launch of Toyota Driving School across India, the company aims to bring down the rising number of road accidents caused majorly due to human error. The training module integrates technical expertise along with enhancing behavioral skills to create awareness about safety nationwide. Toyota To further expand road safety education in a sustainable manner, Toyota Safety Education Program (TSEP) - an interactive learning program has been implemented in the school, which is designed especially for young school children to inculcate strong safety sense.
Towards achieving the safest commute for the children to and fro from school, the school busdrivers have been trained on safe driving practices.
Commenting on the increasing need for awareness on road safety, Mr. Anil Kumar, Deputy Superintendent of Police – Traffic [Rewari] said, "It is important to shape children's attitudes towards road safety and help them stay safe on roads. Ingraining a well-designed road safety in curriculum into lessons on other subjects, or assemblies or other school activities can play a vital role in influencing the attitudes of children that can turn them into responsible drivers and pedestrians. I appreciate Toyota for conceiving and executing such an initiative to develop students as safety ambassadors, not just enlightening the school children, but also their social circles on the importance of adhering to traffic rules and becoming responsible road users."
Sharing his thoughts in support of Toyota's initiative to curb road mishaps in the country, Mr. Deepak Jain,Managing Director – Lumax Mannoh AlliedTechnologies Private Limitedsaid, "Children are the change agents who shall steer the society towards the right direction. Sensitizing them at a young age about road rules and traffic environment can bring about a significant impact in the community. It is indeed our privilege to join hands with Toyota Kirloskar Motor in their endeavor to promote road safety across the country. We hope to take this subject to a more regional level and bring about awareness, which will eventually lead to positive action, thereby making the roads of Rewari safe for all."
Speaking on the inauguration of this safety initiative, Mr. Hideaki Nakamura, Senior Vice President -Toyota Kirloskar Motor said, "This campaign echoes Toyota's vision and values, where we work relentlessly to ensure safer roads for all of us. Through the cautiously designed safety model school curriculum, we have been able to connect with children in various regions, inspiring them and instill positive road behavior at an early stage of their lives. Through this launch, we will educate young children on road safety habits, traffic rules and traffic educations, sharing the best safety knowledge to prevent any road accidents being a responsible road user - as a driver, as a pedestrian.
I would also like to extend my heartfelt gratitude to our supplier partner -Lumax Mannoh Allied Technologies Private Limited, for their unceasing support in launching the project at Rewari. Let us hope that this campaign realizes the collective efforts to improve the road safety, and bring about a sustainable and visible positive improvement", he added.
Team Toyota India is a distinctive group formed by Toyota in association with its dealer and supplier partners towards impactful societal contribution. Team Toyota India works with a mission to create a Better India and a Better World for everyone to live in. It works as one team with one goal integrated with its business partners in each region.
*MoRTH Report
Driving School has till date enrolled 3500 plus students with 13,000 plus enquiries. By 2020 the company plans to cross 50 such schools across India, voicing their traffic safety commitment louder.
To achieve behavioral change towards road safety, we further developed Team Toyota Activity [TTA]. TTA is implemented by Toyota in partnership with business partners to create safety minds in the society. We have taken one step forward to develop the road simulation infrastructure at select schools and give practical training to children towards building right road users. Our focus is to inculcate the right attitude by creating a "safety model school" to further expand its reach outside the school premises through strong road safety sense.Toyota believes that children are the main influencers. They play a key role in transforming the society we live in. Thus, our interventions focusestowards developing the school children to be a responsible road users thereby spreading the safety culture from school to society at large.
Spearheading the cause of road safety in India, Toyota Kirloskar Motorinaugurates this day, the 5th"Safety Model School" in partnership with M/s Lumax Mannoh Allied Technologies Private Limited, under TTA. Team Toyota works with the mission to build a Safer India for all, thus collaborates as one team with one goal.
The launch of "Safety Model School" was graced by dignitaries Mr. Anil Kumar, Deputy Superintendent of Police – Traffic [Rewari],in the presence of senior management representatives from Toyota Kirloskar Motor Mr. Hideaki Nakamura, Senior Vice Presidentand Mr. Naveen Soni, Vice President.
According to recent studies, India reports the highest fatalities in the world, with 1.46 lakh people losing their lives in 5.01 lakh road accidents across the country, which roughly translates to 400 deaths a day. The primary contributors for road accidents are over speeding [62.2%], consumption of alcohol [5.1%], overtaking [7.8%] and usage of mobile phones [1.5%]. Toyota aims to bring about the behavioral changes amongst the road users by creating awareness through good road etiquettes, thus in turn contribute to reduce the road accidents.
Safety is prime at Toyota, and this project is a result of many years of learningsthrough implementation of variouspan India road safety initiatives across the length and breadth of the country. The "Safety Model School" is a unique comprehensive program supporting school children to know &learn about the road safety habits in their daily life.This safety model has been successfully implemented in Kochi, Delhi, Varanasi and Hissar.
The modelcomprise of 3 modules:
Safety zone is created within the school campus ofSuraj School, Rewari. It comprises of Safety zone,Traffic Park, Parking bays, Safety staircase, Zebra crossings,Safety sign boards, Road lane markings and Speed breakers. This will create a safe environment in the school for children to understand and practice road safety every day.Children will be educated on the importance of road safety signals, following the right safety behavior, adhering to traffic rulesand causes of accidents.
---
| | |
| --- | --- |
| Company name | Toyota Kirloskar Motor Private Limited |
| Equity participation | TMC: 89%, Kirloskar Group: 11% |
| Number of employees | Approx. 7000+ |
| Land area | Approx. 432 acres (approx.1,700,000 m2) |
| Building area | 74,000 m2 |
| Total Installed Production capacity | Upto 3,10,000 units |
| | |
| --- | --- |
| Established | October 1997 (start of production: December 1999) |
| Location | Suburb of Bangalore, Karnataka State |
| Products | Innova, Fortuner manufactured in India. Prado, Land Cruiser and Prius imported as CBUs. |
| Installed Production capacity | Upto 1,00,000 units |
| | |
| --- | --- |
| Start of Production | December 2010 |
| Location | On the site of Toyota Kirloskar Motor Private Limited (on the outskirts of Bangalore, Karnataka State) |
| Products | Corolla Altis, Etios, Etios Liva, Etios Cross, Camry & Camry Hybrid |
| Installed Production capacity | Upto 2,10,000 |